Ultra Secure
Mobile Credentials
The blueLINE™ line of readers and credentials easily adapts to any of your access control needs. The versatility of blueLINE™ covers all types of applications, from small businesses to large corporations.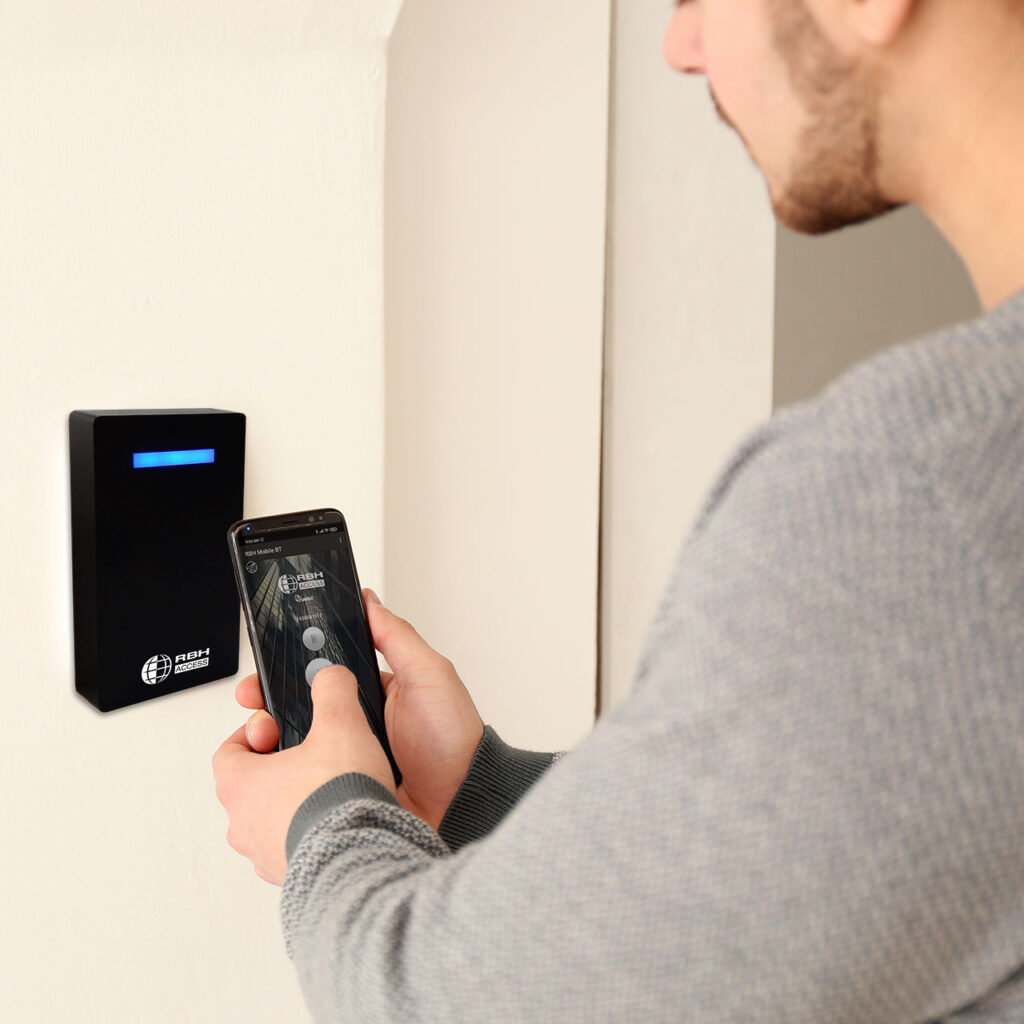 The blueLINE series of credential readers combines proven technologies of the past with the emerging technologies of today. Through one product line a customer can maximize the benefits of all credentials complying to ISO-14443 A & B, MiFARE, DESFire (EV1 & EV2), Fingerprint, OSDP version 1 & 2, Ultra-High Security Credentials (UHSC), Mobile Credentials, NFC and Bluetooth to create a customizable security solution that's right for their infrastructure. blueLINETM has an ergonomic, aesthetically pleasing design that fits all solutions from the smallest user to the largest corporation. blueLINETM reads up to 128 bit cards.
The blueLINETM series of readers are ergonomically designed with tri-colored LED's and backlighting for dim environments. Single gang, mullion, and European box sizes are available. See your dealer for a complete parts list. The RBH-BFR350 series is a biometric reader designed and completely integrated into all of RBH security software platforms for quick and easy biometric enrollment. For fingerprint only or credential and fingerprint validation the BFR series is right for any application.

Readers in the blueLINETM series are capable of using DESFire (EV1 & EV2) credentials for the highest of security standards. Communication to controllers can be using standard Wiegand or OSDP version 1 & 2 for increased security where maximum integrity and tamper conditions are required.
Introducing UHSC or Ultra High Security Credentials. All blueLINETM readers use UHSC via NFC or Bluetooth on respective devices. UHSC are a free virtual credential for Android and IOS where the App creates a virtual credential on the device.
A Manufacturer does NOT manufacture ortrack your credential. This removes the possibility of a virtual credential hack or duplication of virtual credential. End users are not dependent on manufacturers shipping or managing credentials making UHSC a much higher form of security and at the same time extremely economical.
Because of its easy and fast installation, your access control system can be updated or replaced in a matter of minutes.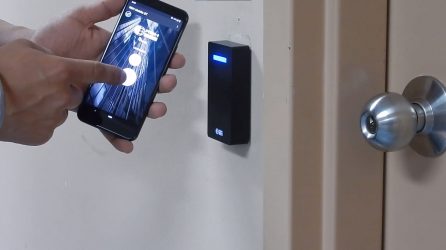 Ideal for all types of access
• Doors
• Elevators
• Parking lots
• Garages
• Lockers
and much more!
blueLINE™ Series of Readers
For the highest security standards, blueLINE™ can be used with Mifare and DESfire credentials, as well as fingerprint and blueLINE™ mobile credentials featuring UHSC technology. Communication with the controllers by standard Wiegand or OSDP.

Discover the power of having blueLINE on your side
Adaptable for all applications
From corporations to retail stores to universities and more, blueLINE ™ is a fast, secure solution with a minimal investment.
• High Volume Access
• Warehouses & Parking
• Offices
• Lockers
• Elevators
Compatible
Works with RBH Access Systems, AxiomXa, AxiomV and Integra32, as well as the most other systems on the market
Easily integrated
blueLINE ™ technology allows integration with other access control and security systems.
Bluetooth or NFC
Works on all Android and iOS devices. (NFC compatible with Android only)
Ultra-secure
Over 4 billion combinations make it impossible to track, hack or duplicate.
Flexible
blueLINE ™ readers allow different types of physical credentials and key fobs.
Get to Know the NEW WAY to access